Kel-tec RFB Semi-automatic 308 Winchester 18"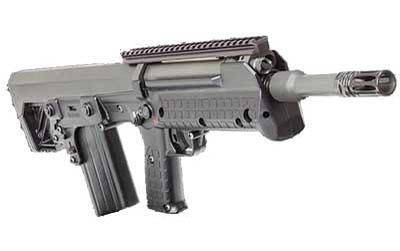 | | |
| --- | --- |
| Available | At Warehouse |
| MSRP | $1,93000 |
| Restricted | |
| Product Notice | |
Kel-Tec RFB Semi-Automatic 308 Winchester 18" Synthetic Parkerized
RFB stands for Rifle Forward-ejecting Bullpup. Why forward-ejecting? Because it allows the RFB to be the first truly ambidextrous 7.62 NATO Bullpup ever developed. The patented, dual-extractor system maintains control of the case from the moment it leaves the magazine and upon firing, pulls the fired case from the chamber and lifts them to push them into an ejection chute above the barrel, where they exit. The Bullpup configuration and tilting-block mechanism allow the 18" model to be only 26.1" long, or as much as 14" shorter in overall length than its competitors with equal barrel lengths. Furthermore, the stock and mechanism cross-section is similar to a conventional rifle, in stark contrast to existing Bullpup rifles. The RFB is also the safest Bullpup ever developed because the breech is separated from the shooters face by two layers of 1.6 mm steel. In the highly unlikely event of a case rupture, gas expansion is directed downwards through the magazine well to protect the shooters head and face.
Item Info
| | |
| --- | --- |
| Item | 13147-2 |
| UPC | 640832007381 |
| Brand | Kel-Tec |
| Model | RFB18 |
| Caliber | .308 Winchester |
Tech Specs
| | |
| --- | --- |
| Action | Semi-Automatic |
| Barrel Length | 18" |
| Capacity | 20+1 |
| Trigger | Standard |
| Safety | Lever |
| OAL | 26" |
| Weight | 8.1 lbs |
| Stock | Synthetic |
| Metal Finish | Black |
| Muzzle | A2 Flash Hider |
| Sights | None (Optics Ready) |
| Purpose | Personal Defense/Sport |
| Series | 7.62 Nato Rifle |
| Finish | Black |
| Overall Length | 26 |
| Features | Accepts Standard FAL Type Magazines |